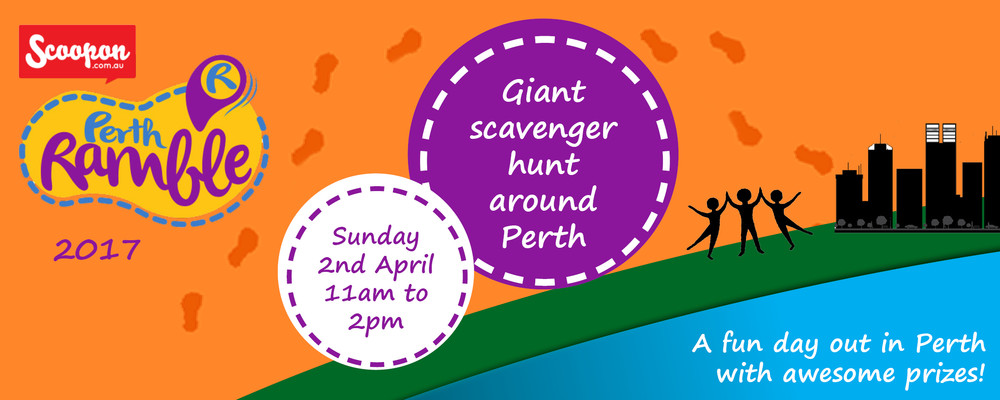 Perth Ramble 2017
Perth Ramble is a cross between a 'treasure hunt' and an 'amazing race' in Perth CBD all whilst teams are vying for a fantastic host of prizes.
Annually this event attracts thousands of participants and the costumes add excitement and vibrancy to the streets of Perth on a Sunday afternoon.
The ramble is known as a fun day out for all age and fitness levels. So what are you waiting for ... grab your friends, family members or colleagues and participate in this unique and engaging event all whilst discovering the Perth CBD you never knew existed.
If you are still not convinced we have a story to share with you. Perth Ramble is now partnered with Ronald McDonald House Perth, your attendance and support of this event will ensure seriously ill regional WA families have a place to stay when their child needs to receive specialist medical treatment in Hospital.
Kayla's Story
Kayla has been staying at Ronald McDonald House Perth on several occasions in 2016 after her son Andre was born with a hole in his heart. He has been in and out of hospital since he was four days old. At four and half months he underwent open heart surgery, and again at five and a half months. Now nine months old he is currently battling Bronchiolitis which must clear before he undergoes yet another surgery at Princess Margaret Hospital.
Living in Geraldton, Kayla and her three other children packed up their belongings and made the long trip to Perth for young Andre's surgery. With no where to stay in Perth and a very fragile baby thankfully the families' social worker at Princess Margaret Hospital told them they were eligible to stay at Ronald McDonald House. This meant Kayla and her children could remain close together as a family as Andre recovered in hospital nearby.
"I like it here, it's nice and it really is a home away from home," Kayla told us.
"Staying here keeps us all together which is important as it's hard to know how often we'll need to keep coming back."
When Kayla and Andre need to come to Perth for check-ups, appointments and surgeries, she often needs to take the children out of school as she has no one to take care of them back in Geraldton. This is where our in-house Learning Program can also help families and make sure children don't miss out on important education.
"The kids go up to the Learning Centre sessions in the afternoon whenever they can, when we're not all up at the Hospital with Andre," said Kayla.
Families just like Kayla's are the very reason why your donation to Ronald McDonald House is so important. We can remain a soft place to land for families during a stressful time, provide food on the table each night and a safe environment for families to thrive together.